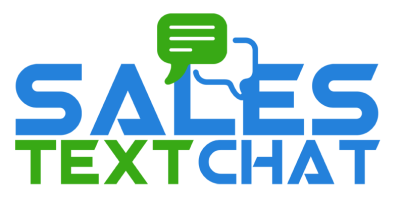 Sales TextChat™
. Text More. Sell More. Dominate Your Local Marketplace with 2-Way Sales TextChat and Close More Leads at Your Dealership Today! ...
Text SELLCARS To 69696 To Demo The Sales TextChat™ System (message and data rates may apply, text STOP to Opt Out)
About Sales TextChat™
. We are a company with over 10 years experience with business to consumer texting.
Our products have a reach to over 10,000 businesses worldwide ranging from
Text & Web Chat to SMS Marketing Platforms
. With over 50 in house "texting" proficient programmers and testers we have the uncanny ability to launch new features in our product lines with the speed of a fortune 100 company without the "headaches". Many features in our software are patent pending technologies developed by programmers with marketing expertise.
Our Texting Features - Totally 100% GenX & GenY friendly & Sells more volume!


Intuitive & Organized Chat Sessions, No Clunky Popups!
---
We designed the platform to easily manage your text chats with customers whether the agent is 18 or 80 years old. Bring your dealership into the 21st century with technology todays customer are choosing as their main method of communication, TEXT MESSAGING. The integration is seamless and generates "LEADS" not tire kickers. Click Image To Enlarge
Mobile Friendly Agent to Customer Interface w/ Notifications
---
Your sales people/agents can still use their own phone to text with their potential customers. However, the dealership maintains the relationship with the lead. Leads do not walk away with the sales person. Each sales person has their own dashboard of leads to work. Mobile prospects are lower in the sales funnel - they are decision makers. You want to safeguard them for the dealership. The chat agents phone number is never disclosed to the customer. Click Image To Enlarge
Picture, Video, Document Messaging. Yes It Does That!
---
Communicate with your Leads via 2 Way SMS and MMS messaging with text, images, and/or video. Use images to upsell service projects. Use video to attract prospects to a specific car - their car. Customers can send agents multi media picture and video messages, this is great for service centers where customers can send pics and vids of their cars issues for an "Opinion"
Click Image To Enlarge
PC Exe Chat, Windows PC Meets Live Text/Web Chat
---
Sales Staff / Agents do not have to be tied to a specific chat computer. They can be working from their desk and be notified of a chat from one of their leads right on their own PC. And yet the dealership still maintains control of the relationship with the prospect. Click Image To Enlarge
Live Web Chat - an earlier easier step in the buying process
---
People early in the car buying process are more likely to want to keep their communications at arms length. They are not ready to disclose their phone number. Yet they have questions. As a dealer you want to nurture them and develop that relationship so that their choice will be your dealership. Click Image To Enlarge
SMS Reputation Management System, Overcome Bad Google Reviews
---
Save yourself $1000s/mo. in Rep Mgmt. fees. 5 Star reviews plays a key role in the decisions of car buyers today. A prospect can find the exact car that he/she wants and even take a test drive; but then go elsewhere to buy the vehicle just because of a bad review. That is why it is so important to build your reputation online. This system makes it easy and convenient to do. Click Image To Enlarge
Industry 1st, Add Chat Texting To Your Existing Landline
---
Have a vanity 800 number? Have a landline phone number customers know by heart. Convert all advertising & media from "Call Us 1-800-555-3333" to "Call or Text Us 1-800-555-3333". Any incoming text message becomes a lead generating live chat machine. Welcome your customers with technology they rather use and love. Click Image To Enlarge
Industry 1st, Automated Inventory Text Chat
---
Upload a CSV of all your car stock within seconds the system will give you back a CSV of inventory keywords and images that you can use on your online or offline advertising. Turn Autotrader, Cars.com, Ebay, Craigslist & Youtube into mega lead generation machines for your dealership. Click Image To Enlarge
Keyword Campaigns, Built in Staff Notifier, iBeacon & Geo-Conquesting Mobile Advertising
---
Customers can chat direct to agents via our Keyword2Chat feature; on initial customer text in, personal messages can be delivered with any kind of MMS. This is great for agents who advertise for their own leads and specialty specific chats to qualified agents. We build upon good recommendations of our clients. Our staff notifier is just that. A dealer wanted a way to communicate with their teams (Sales or Service). Because about 98% of text messages are read within 5 minutes, SMS is the ideal system. It will make sure your entire staff is kept abreast of meeting changes; or just remind them to be there - or else! Our services reach beyond just text messaging too. Our clients also have access to affordable onsite iBeacons and Geo-Conquesting Mobile Ads, both generate leads for less out of pocket than other mediums that don't yield the results you need. Ask us about all our services. Contact Us
---
Did You Know:
About 1 in 4 TextChats result in a financial transaction - compare that to live web chat where from 1 in 10 to 1 in 20 live web chats result in a financial transaction.
*TextChat
™
and Live Web Chat are not competing services. They are Complimentary.
Different prospects will use different services. Prospects early in the Car buying process often use live web chat and are not comfortable giving up their cell phone number. However Prospects getting more serious about buying a car will use TextChat so that they don't miss a response when off the dealer website.

Expectations:
As of 8-13-2015, Last month the number of incoming Web page based texts per dealer ranged from a low of 5 to a high of 200. Higher spectrum of leads delivered are the results from dealers utilizing the service to its full potential. See an example of such a dealer at Chapman's Chrysler Jeep Dodge Ram

When Asked where he placed credit for higher volume, a mid sized franchise dealer said "making sure the web site provider keeps the links up consistently, correctly, and doesn't knock them off with each update. Also actively using Keyword2Chat in existing digital and non digital advertising has helped tremendously"
"We settled on a platform that offers text chat, regular Web chat, keyword and short-code callouts — for nondigital marketing — and reputation management, all in one dashboard. It's a 'one-stop shop' for inbound and outbound texting."
- Andy Dasher (Winner Ford)